05 Jul 2012
|

Robin Lane Fox - Travelling Heroes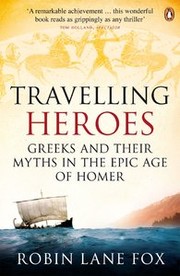 Excellent book where the author meanders around the 8th century BC Mediterranean, linking together the cultures active at the time, using Homer's Iliad and Odyssey as a backdrop.

The author shows that the island of euboea, roughly 'around the corner' from Athens, played a hugely important role in connecting the eastern with the western Mediterranean, during the 9th and 8th centuries BC, and that, during that period, a lot of the Greek mythology, stories of the gods and their companions, intermingled between the regions frequented by these Greek sailors, resulting in the stories left us by Homer and, later, Hesiod and others.

The author places an important source of the stories in the northern triangle in the far west corner of the Mediterranean, formed by the eastern tip of Cyprus, Cilicia in southern Turkey, and the Syrian coast, this area particularly seeing a lot of mingling as well as being the source for important influences to Greek mythology.

A few lovely tidbits of historical knowledge include the fact that Phoenicians probably called themselves Canaanites and that their current name derives from the Greek phoinix, meaning purple-red, referring to the 'royal purple' die Phoenicians were famous for.
Carthage derives from the Phoenician for 'new city', qart hadasht.
Tagged with: Crete Cyprus Greece history Italy mythology Phoenicia Syria Turkey